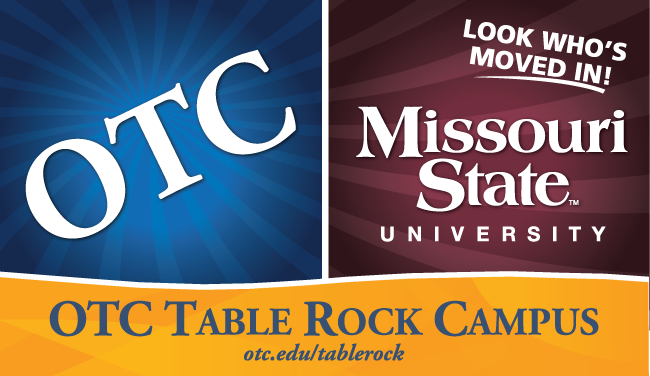 Complete a Bachelor's Degree With MSU in Table Rock!
Welcome future Missouri State students!
Earn your Associate of Arts degree from OTC and enjoy a seamless transfer to Missouri State University! You may obtain a bachelor's degree without ever having to leave the Table Rock Area. Currently, MSU offers two undergraduate degree programs at the Table Rock OTC Campus, as well as several graduate degree options.
Bachelor of Science in Communication
The Bachelor of Science in Communication Studies degree program is extremely flexible and available to students at the Table Rock campus. Classes will be offered through a variety of formats, including blended, face-to-face, and online. This degree program may be completed in approximately two years after the completion of your AA degree. A degree in communication provides a foundation of knowledge and skills appropriate to a wide range of professions.
Bachelor of Science in Professional Writing
The Bachelor of Science in Professional Writing program at the Table Rock campus allows you to adapt specialized information accurately to help people make decisions, perform tasks or solve problems. Develop superior writing and computer skills preparing for a career in writing, editing, publication production and project management. You may choose a career in business, law, education, health care, and more!
For more information about degree completion through Missouri State Outreach on the Table Rock OTC campus, please contact Jonathan Talley, Director of Adult Non-Traditional Student Resources, at 417-836-8549 or by email at JonathanTalley@MissouriState.edu.